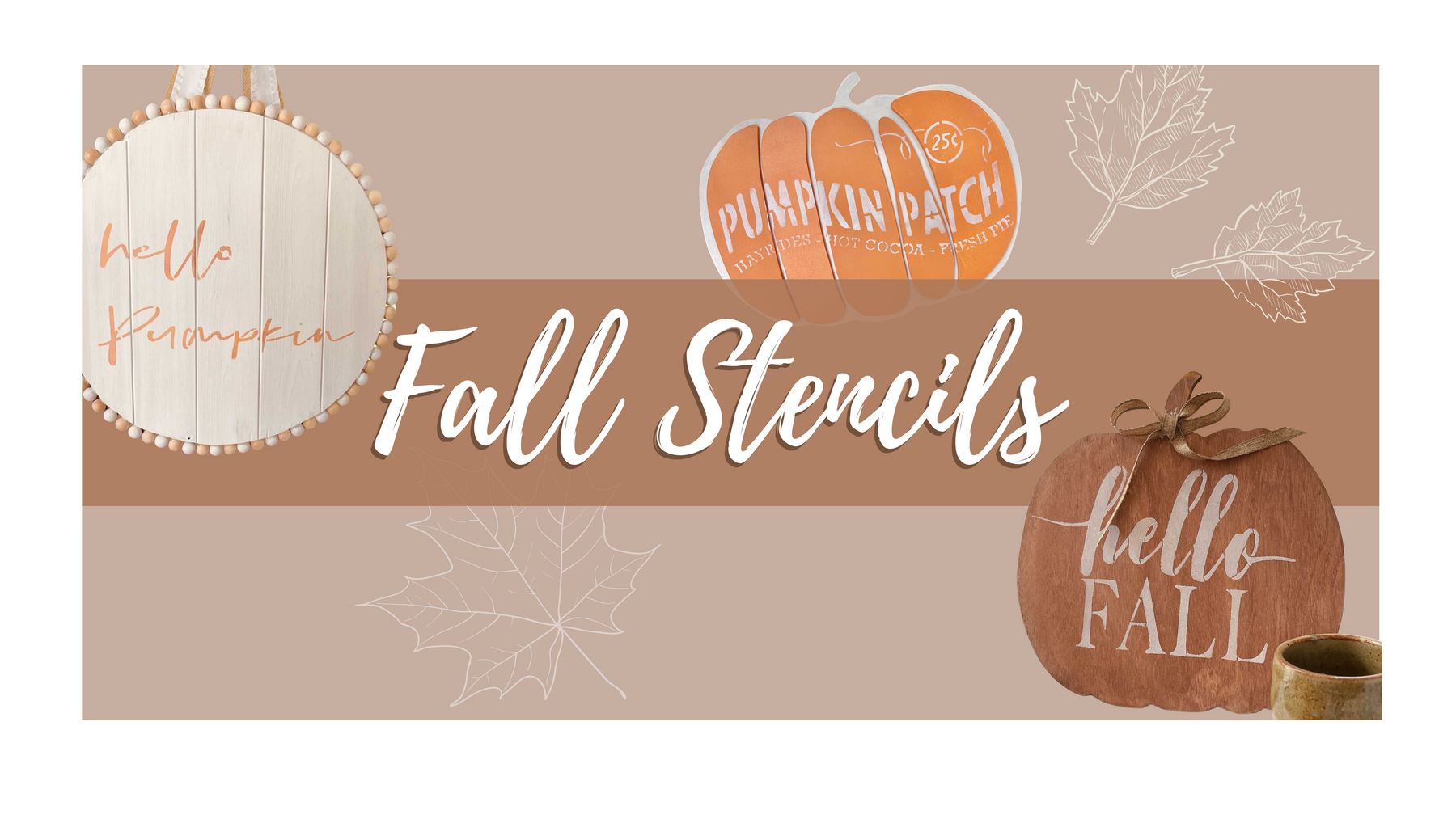 Step into Fall with Stencil Me Pretty
Ah Fall, the coziest season of all. I know I love decorating my house this time of year with pumpkins, leaves, signs and all that good stuff and stencils help me make the most unique décor for my space! Here are some of my favorite projects I've created using our Fall Stencil Collection!
Hello Fall Pumpkin Sign
This Hello Fall Pumpkin Sign is one of the first I made this season and it is one of my favorites. I just used my scroll saw to cut out a simple pumpkin shape out of a piece of plywood, stained it to the color of my liking and went in with the Hello Fall Country Style Stencil. After stenciling, I went in and hot glued a little burlap ribbon bow onto the top for the perfect finishing touch. Sweet, simple, and the perfect fall staple piece. 
Pumpkin Patch Sign
Here is my scroll saw pumpkin sign I made using the Pumpkin Patch Fall Harvest Truck Stencil. My scroll saw is one of my most used tools when it comes to making cute little signs like this! I cut out a simple pumpkin shape along with a second layer of smaller shapes to create more interest to the pumpkin. After I painted and glued it all together I went in with my stencil in a simple white color and it just was the perfect touch to this pumpkin patch dream. 
Gobble Gobble Thanksgiving Sign
This stencil is one of my favorite to add some fun into your home décor. I used the Gobble Turkey Fall Thanksgiving Stencil on a piece of plywood for a simple and easy project. I taped off different section and stained them different colors and then went in with my stencil painting each word in a different stain as well. 
Classic Vertical Fall Welcome Sign
 The Fall Pumpkin Welcome Stencil is a crowd favorite! I have used this stencil not only to create this gorgeous fall welcome sign but I have created a welcome sign for every season! All I do is used the template over and over again and just switch out the pumpkin for whatever is fitting for that season!
More Fall Stencils...
These were just a few hand picked projects but you can go check out more of the Fall Stencil Collection on our website.
Also follow Stencil Me Pretty on Instagram @stencilmepretty for some more Fall projects!