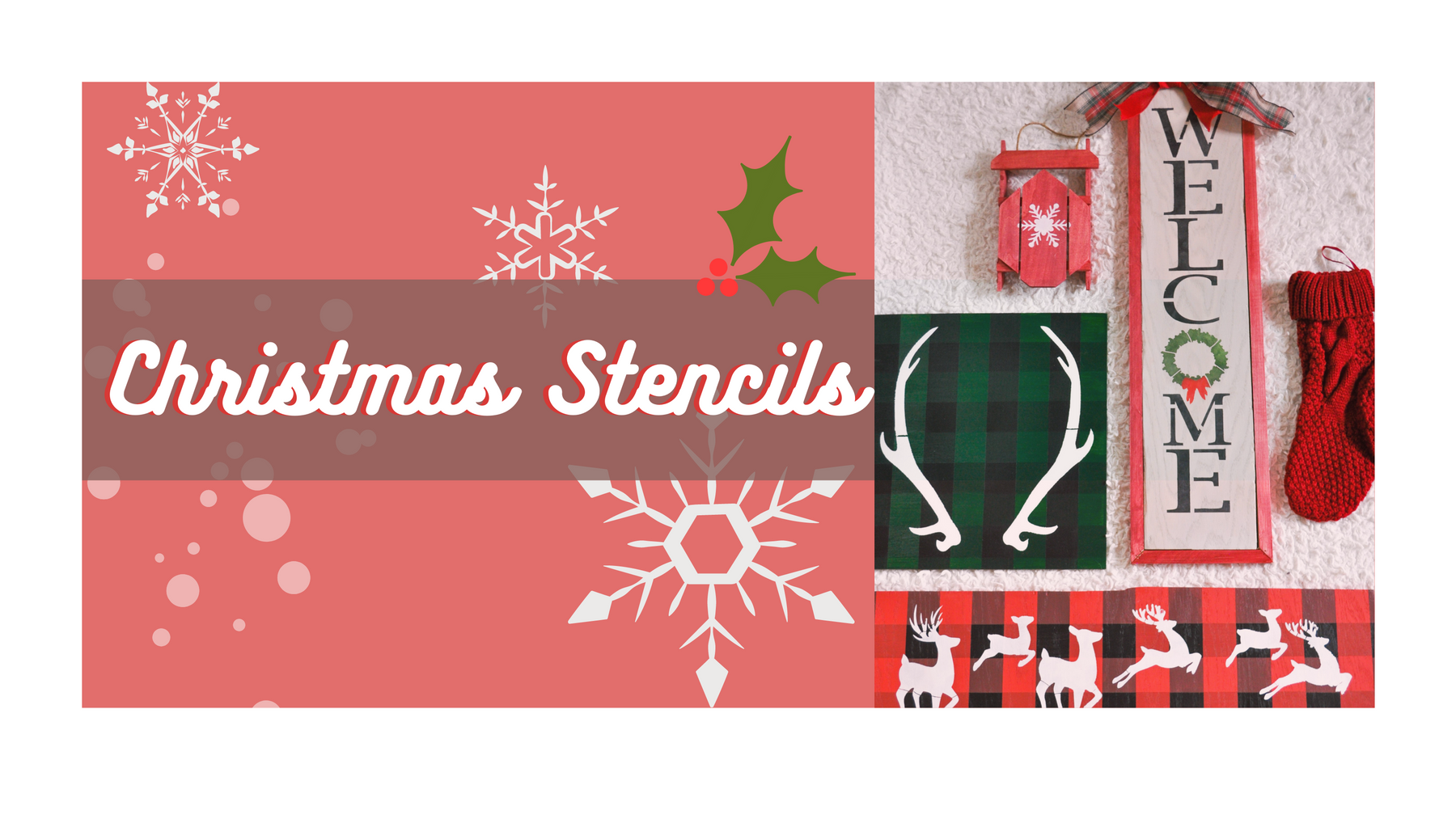 Stepping into the Christmas Season with Stencils!
Christmas is just 2 months away so we are getting a head start on Stenciled Christmas decorating ideas! Today I am going to be sharing some of my past and current Christmas DIYs to inspire you this Christmas Season.
Create Amazing Homemade Ornaments
I created these magical little snowflake ornaments using the Snowflakes Winter Decor Stencil. It was such an easy project. I got the wood slices from Michaels, painted a base color using acrylic paint, stenciled on my snowflakes, added some glitter and it was complete! I also drilled a hole in the top and added some twine to hang on my tree. Such a simple and fun project that anyone can do!

Upcycle some old Wood into a Tree!
This project was so fun and does require some handiwork! I used my jigsaw to carve out my tree shape and then created a beautiful white glitter stencil using the Floral Medusa Damask Stencil.  Stay tuned on my Instagram for the full process. 
Make Glittery Holiday Signs!
These signs are my favorite to create with family! Its super fun to all create Christmas Signs one night as a little craft night. I used the Sleigh Rides & Hot Cocoa Stencil to create this gorgeous red, white and gold sign. Adding glitter accents to my stencil projects is my absolute favorite thing. They always come out looking so crisp and clean and the glitter just gleams so nicely. 
Stenciled Christmas Décor Galore!
I love getting creative around the holiday and making my own little Christmas Trinkets. I used the Snowflakes Winter Décor Stencil and the Galloping Deer Family Stencil to create these two little projects!
Here is a little video of the process of how I created the mini Winter Sled:
More Christmas Stencils...
Fore more Christmas Stencils you can head over to the Christmas Tab on our website for all different types of Christmas Stencils for your holiday DIYs.
Make sure to follow Stencil Me Pretty on Instagram to keep up with my current holiday projects!
Christina Leone | Artist & Craft Blogger | Stencil Me Pretty
Happy Stenciling!