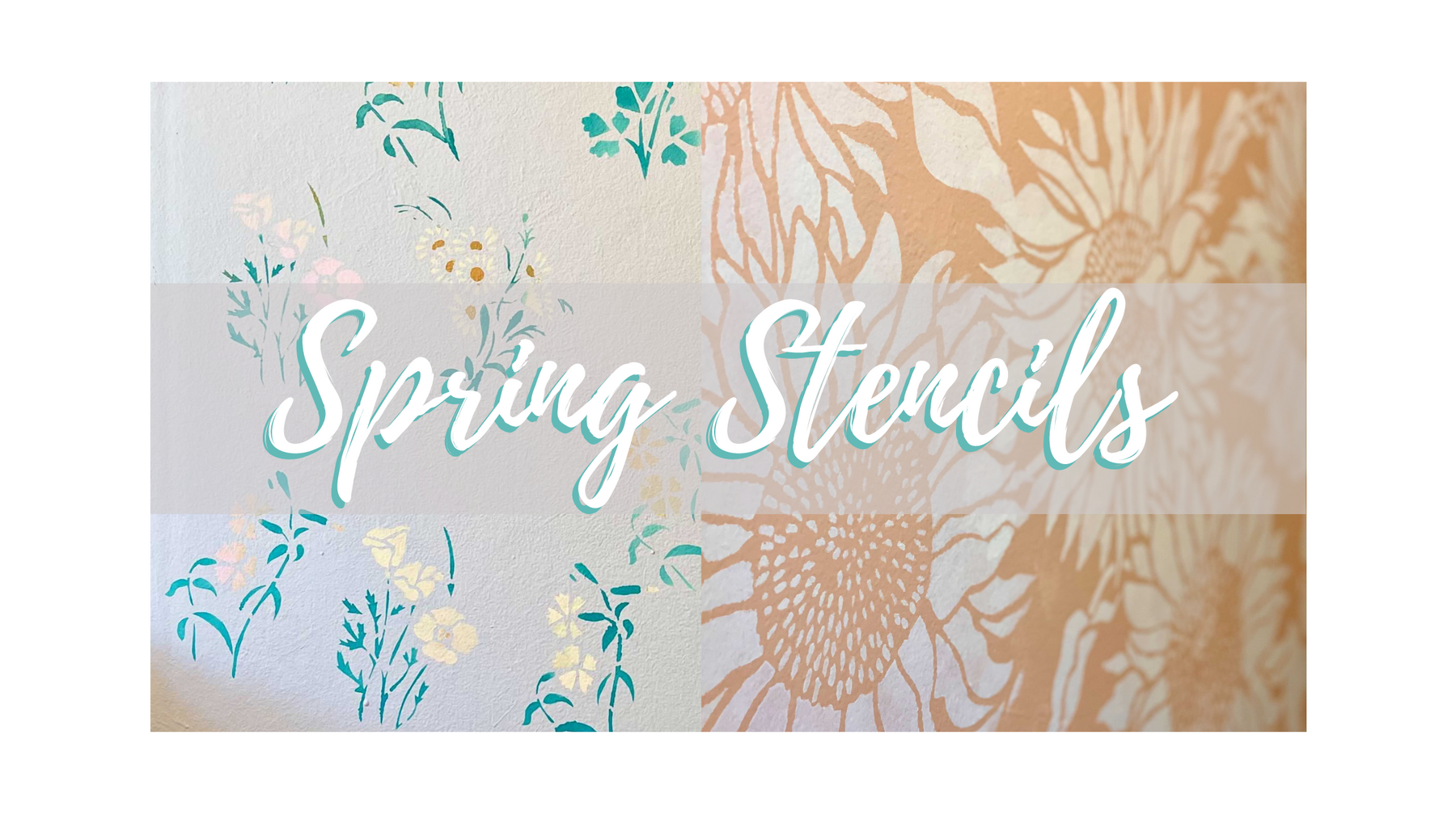 Top 5 Stencils For Your Spring DIY Projects
As the weather is warming up it's time to showcase our beautiful stencils that are fitting for this spring season. 
Stencil Me Pretty
is stocked full of floral stencils ready to be used on floors, walls, decor, and more! These stencils can be created in any size so they can be used on small projects like planters or placemats to the bigger projects like wall designs and
patios
! Here are my top 5 favorite floral stencils I've been loving recently:
(If interested in any of these stencils, click the blue photo to take you to our website!)
1) Tribal Flower Tile DIY Stencil
This beautiful stencil can be used on a floor to create a new circular design to your tile, a bar stool, placemat, etc. The possibilities are really endless this one. This piece has a tribal feel to it with its diamond shapes and geometric patterns but still has a spring time feel from that beautiful symmetric flower shape in the center. Here is the latest project I've done using this gorgeous stencil:
2) Stencil - Flowers Stencil - Columbine Magnolia Daisy Petunia DIY Crafting
This floral stencil can be used to create so many different looks! I used this stencil to create a multicolor floral wall look that just made my space feel like a flourishing garden! 
3) Japanese Kimono Robe Style Ornate Column Template
 
This Ornate stencil was inspired by the Intricate Japanese Kimonos that are laced with beautiful floral vines. I have created a couple projects using this beauty from wall looks to furniture flips! Here is the floral desk I created with this stencil:
4) Sunflower Duo - DIY Craft Stencil
This stencil just screams spring time! I have seen this used as decor for a wooden porch sign, a decor pillow, and even a wall pattern! This is just such a happy and bright stencil that will bring spring time into any space! Here is the latest project using this Sunflower Duo Stencil!
5) Dahlia Daisy Bloom Flower Stencil
This very full floral stencil just bursts with joy and color. Here are some projects created using this joyous stencil:

I hope seeing these floral designs inspired you to created some spring time DIYs this season. Happy Stenciling!
For some more floral stencils click here : Floral Collection
If you want to explore some more Spring time Inspiration, Check out our Instagram: @Stencilmepretty