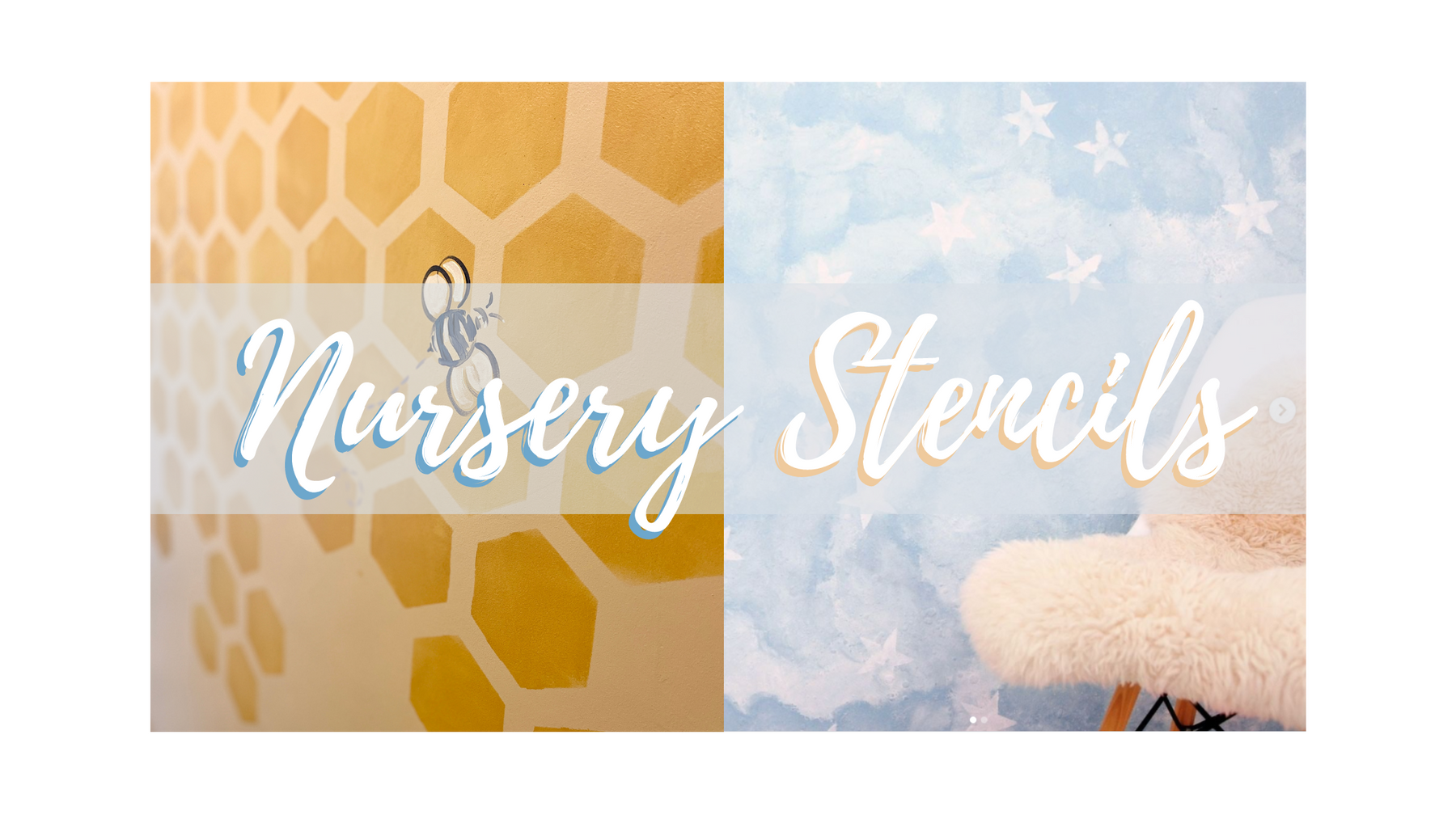 Create Magical Nursery Looks with Stenciling!
Stencils can turn any room into a magical place with just the power of paint! Here are a couple ideas to add to the walls of your Nursery or Children's room to create a place of whimsical feelings. 
Honey Bee Themed Accent Wall
This Design was created using the Honeycomb Stencil Template. This is such a fun look that is playful and brings the beauty of nature from the outside into your space. The two shades of yellow just create such a bright and happy feeling yet are neutral enough that they are not overwhelming to the eye. For the base I used the color "Fresh Bread" from Valspar and then went in with "Luna Gold" from Sherwin Williams HGTV Home. And to finish off my design I just free handed a dotted line leading up to a bumble bee for a little fun touch. 
Starry Night Themed Room
Bring a beautiful starry night into your child's bedroom to create a magical experience every time they go to sleep. 
This look was created to have a very organic feel to it which is why we went in with a watercolor technique for the base coat. After the watercolor process we went in stenciling some stars randomly and slowly blending them into the background for a dreamy effect. 
To get this Star Stencil click HERE. 
For a more in depth tutorial on the watercolor wall process click HERE. 
More Nursery Stencils



These are just two looks that we have created here at Stencil Me Pretty but there are so many more fun looks that can be created using our stencils! Feel free to peruse our Nursey Stencil Collection on our website to get more inspiration for different looks. 
If a themed Nursery isn't your thing you can still check out the Wall Stencil Collection if you just want to add a nice pattern accent wall to your space. 
Feel free to check out the Stencil Me Pretty Instagram for some more stencil inspiration as well.
You can also find some fun stenciling videos on our YouTube Channel if you want some more in depth Stenciling!