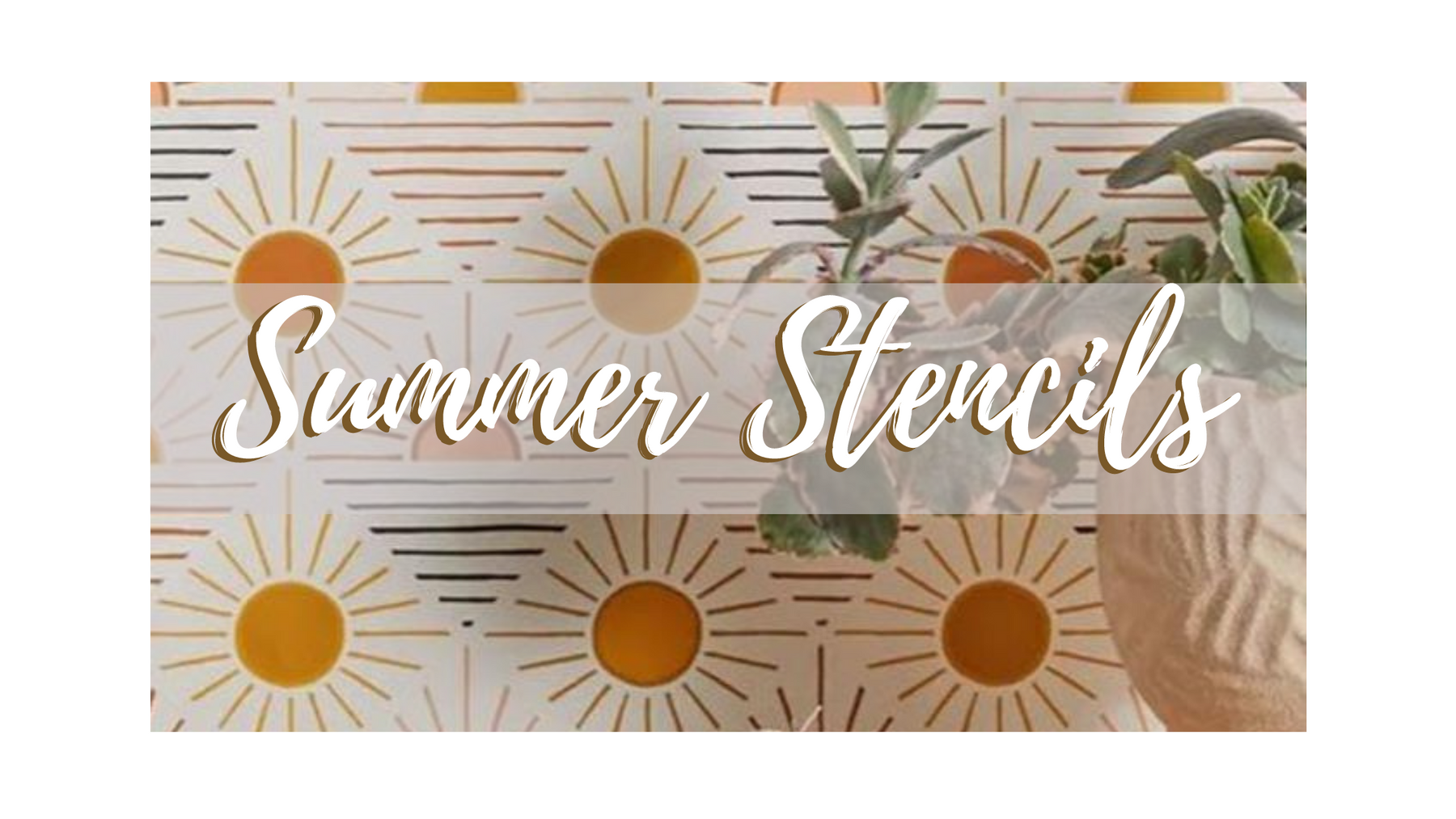 Suns out, Surfs up, Stencil This Summer!
Let's get crafty this Summer! Stencil Me Pretty has stencils for beach house decor, Nautical projects, or even some summery craft projects for the kiddos! Here are my Top 5 favorite summer stencils from our site!
This project is so fun for the kids! The Sandy Beach Sea Turtle Stencil is perfect for this project because of the large simple shapes in the stencil. For this project I simply secured some water color paper to the table to make sure it doesn't move around, applied some light spray adhesive to the back of the stencil, stuck it down on the paper and then it was time to paint!
Watercolors are the cleanest type of paint for the younger kids and they get to have fun mixing up the colors and having a blast! They get to fil in the stencil and go crazy creating this whimsical color palette and as soon as they are done, remove the stencil to reveal their amazing sea creature masterpiece! I love this process because it lets them freely paint how ever they please and still get a nice clean image that you can frame and hang up on the wall to remember for years to come.
Next up we have our Captain's Quarters Stencil that can create the most Nautical projects for the shore! I created this piece on a wood round from the craft store. After stenciling a intertwined some rope into some holes I drilled into the wood to resembles the ropes you'd see down by the bay. 
Our website also has TONs of Oceanside typography stencils like this Stencil! I just knew this vertical stencil had to go on some surfboard decor and it was so fitting for this project! To get those nice clean stripes on the surfboard I just used masking tape, painted, then removed the tape to reveal the beautiful surfboard design before I got to my stenciling!
Stencil Me Pretty also has summer wall Stencils! This design would be so perfect in a beach house or even in a bohemian themed room. The thin delicate lines just make for the perfect sunrays. This look could work so well as a solid one color and can be even more stunning with a more intricate color palette. 
More Summer Stencils
These were just a couple of my favorite Summery projects but there are so many fun stencils to choose from on our website.
Click HERE for Beach Life Stencils.
Click HERE for Flowers, Leaves, and Tree Stencils!
Click HERE for Butterfly Stencils.