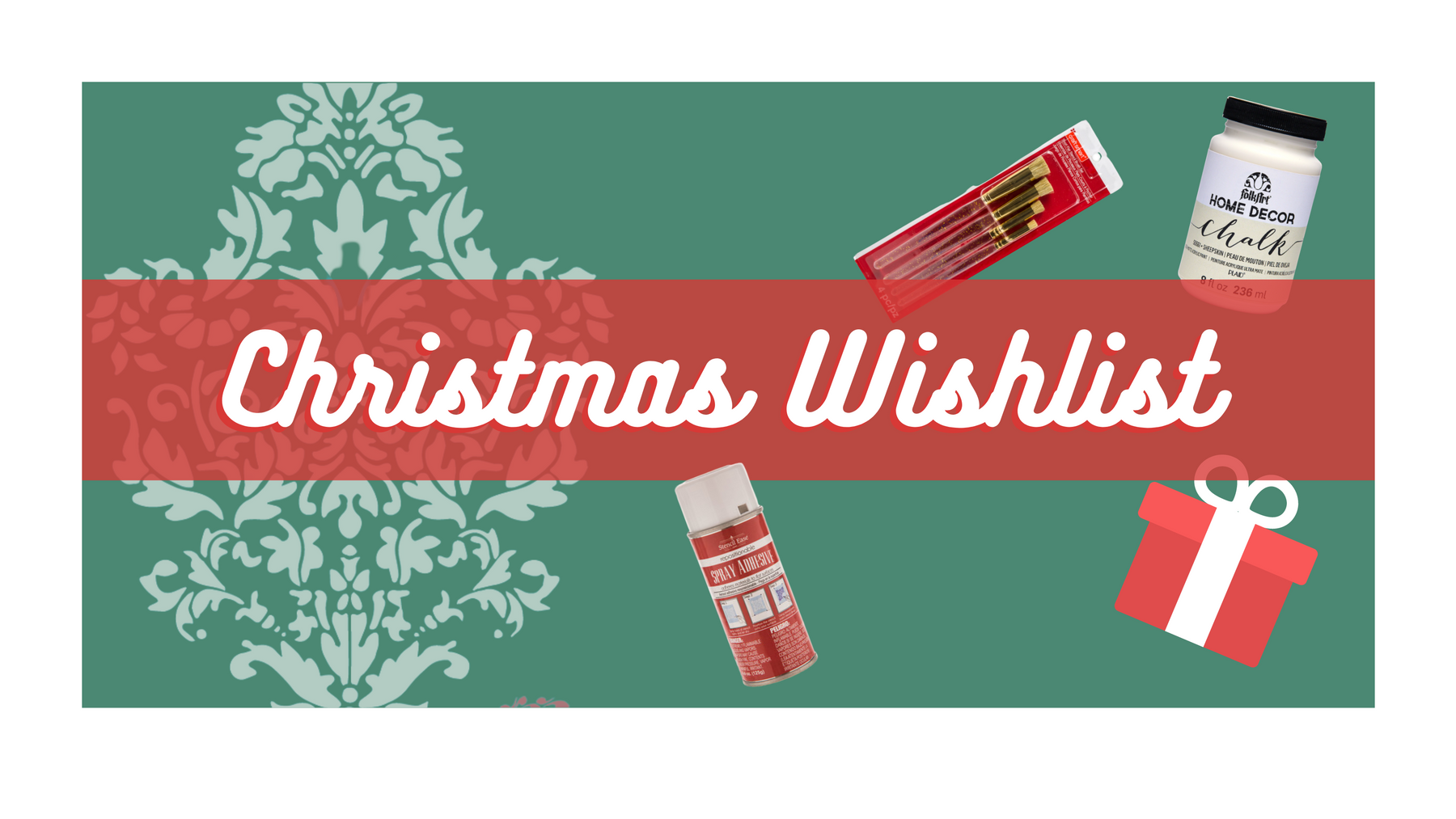 My Stencil Christmas Wishlist!
Christmas is coming around the corner and if your a crafter you better get excited because I am sharing all of my favorite stencils and stenciling supplies so you can add it to your Christmas Wishlist as well!
1. The Floral Medusa Damask Stencil
This is probably my most used stencil, it comes in handy on so many projects when I just want to add a little finishing touch of some pattern. I have it in the massive size and I absolutely adore it!
2. Stencil Brushes and Foam Rollers
These two come in handy with every project! My favorite brushes I have used so far are these Craft Smart Stencil brushes from Michaels. And as for foam rollers I just pick up some from Lowes. But remember foam rollers are key in stenciling, you don't want to get the Shag rollers. 
3. Spray Adhesive
I love putting just a little spray adhesive on the back of my stencil to assure no bleed through happens when stenciling! I have used a couple different ones but just make sure it is a low tack spray adhesive. I use this spray from Hobby Lobby but have even seen a spray adhesive at the Dollar Tree for a more affordable option!
4. Holiday Stencils
We have stencils for multiple Holidays on StencilMePretty.com and I love using them around the holidays to create my own décor. Its so nice having all different types of templates to create with and are able to reuse them over and over again. I also love having little craft nights with friends and family and bringing the stencils out to get creative.
5. Chalk Paint and Acrylic Paints 
Some of my favorite types of paint to stencil with are basic acrylic paints and chalk paint! Chalk paint is a really thick and matte type of paint that dries very quickly which really comes in handy when stenciling. Chalk paint is a little more pricey than regular acrylic so have both! 
More Christmas Wishlist ideas...
Go check out all our Wallpaper pattern stencils on my site to create your own accents walls!
Go check out the the Christmas Stencil Collection to create your own merry decorations this season. 
Follow me on Instagram at Stencil Me Pretty to follow along all of my Christmas projects of this joyful season.
Wishing you all a Safe & Merry Christmas!
Christina Leone | Artist & Craft Blogger | Stencil Me Pretty
Happy Stenciling!