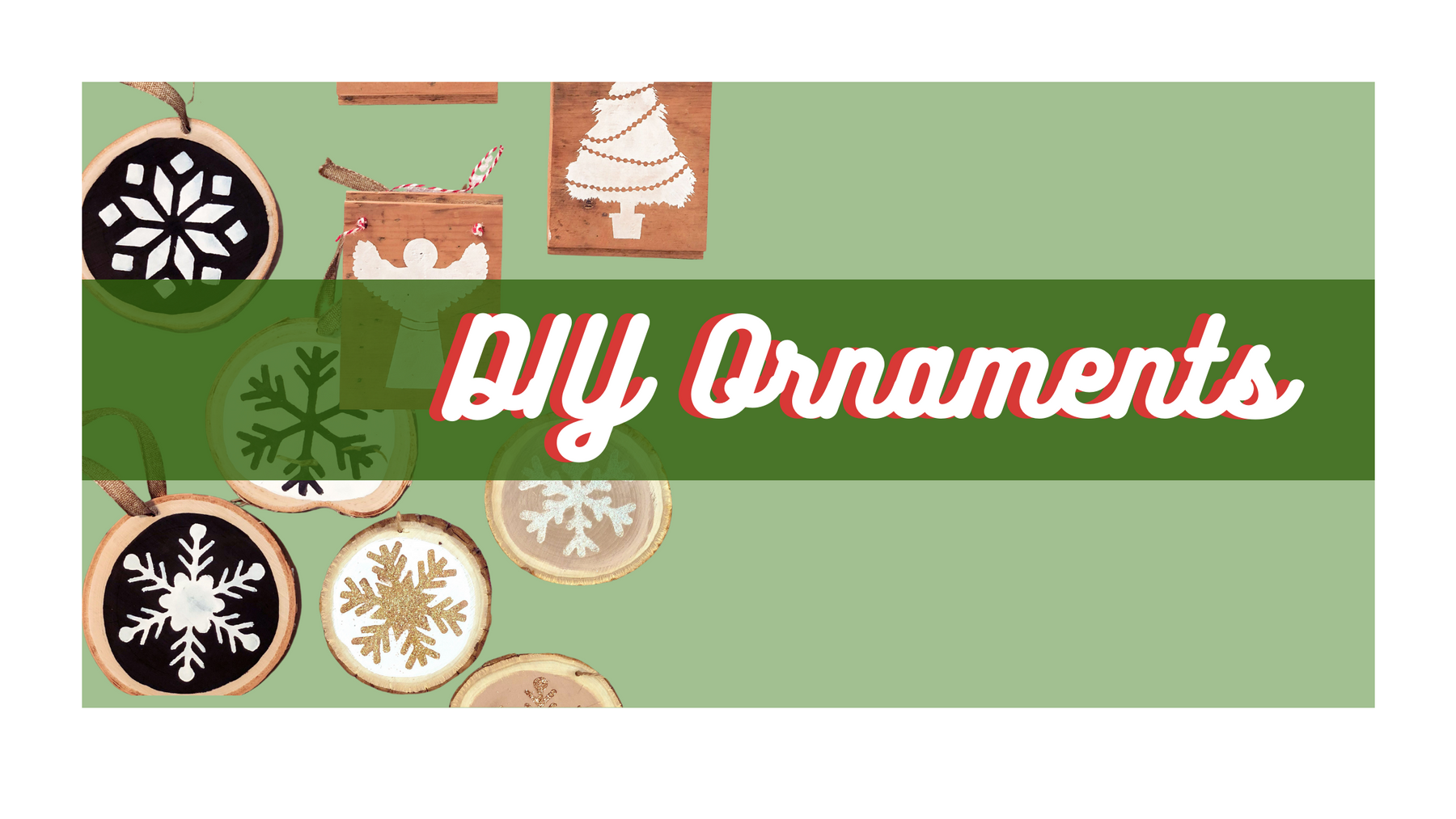 How to: DIY Christmas Ornaments!
Decorating the tree is always such a fun activity to do with family and friends and it can be even more fun making a couple ornaments yourself! Today I am sharing 2 different styles of Christmas ornaments that can be created in a couple easy steps using stencils!
Golden Neutral Wood Slice Ornaments
I love this style; its pretty and can be mixed in with regular ball ornaments as well to mix the rustic feel with the more shiny look. I used the Snowflakes Winter Decor Elements Stencil to create this lil ornaments. I used blank wood slices from Michaels as my base. Painted a circle on each one in different neutral shades of tan and white and then stenciled with some paint and added glitter! Then to finish off the project, I drilled a small hole in the top so I could tie some twine through to hang on the tree. 
Gingerbread Inspired Ornaments
These lil ones really just remind me of gingerbread and I love it! I actually cut up a thrifted piece of wood to make these ornaments; It actually used to be part of an old staircase which is pretty cool; what a transformation right?? After I sanded down my wood it had such a nice color I decided to keep it how it was. Then I went in with the Christmas Angel Ornament Deer Wreath Candy Cane Stencil to create simple little images on each one. After stenciling, I drilled two hole in the top and strung through this Christmas Twine from Michaels. I just think this styles gives off such a unique Christmas vibe and I love them!
A Black & White Christmas
For these more modern looking ornaments, I used the same Snowflakes Winter Elements Stencil. Crazy how using the same stencil with different colors can give such a different outcome! I also used those same wood slices from Michaels for this project. I also just used paint on this project without adding glittery to keep it feeling more bold and modern. 
For more Christmas stencils, head to Stencil Me Pretty to pursue the
Christmas Stencil Collection.
I hope you loved all three of these Christmas Ornament looks and maybe even give it a try yourself. If so, please share your projects with me on
Instagram,
I'd love to see what you come up with using these stencils!
Wishing you all a Safe and Merry Stenciled Christmas!
Christina Leone | Artist & Craft Blogger | Stencil Me Pretty
Happy Stenciling!