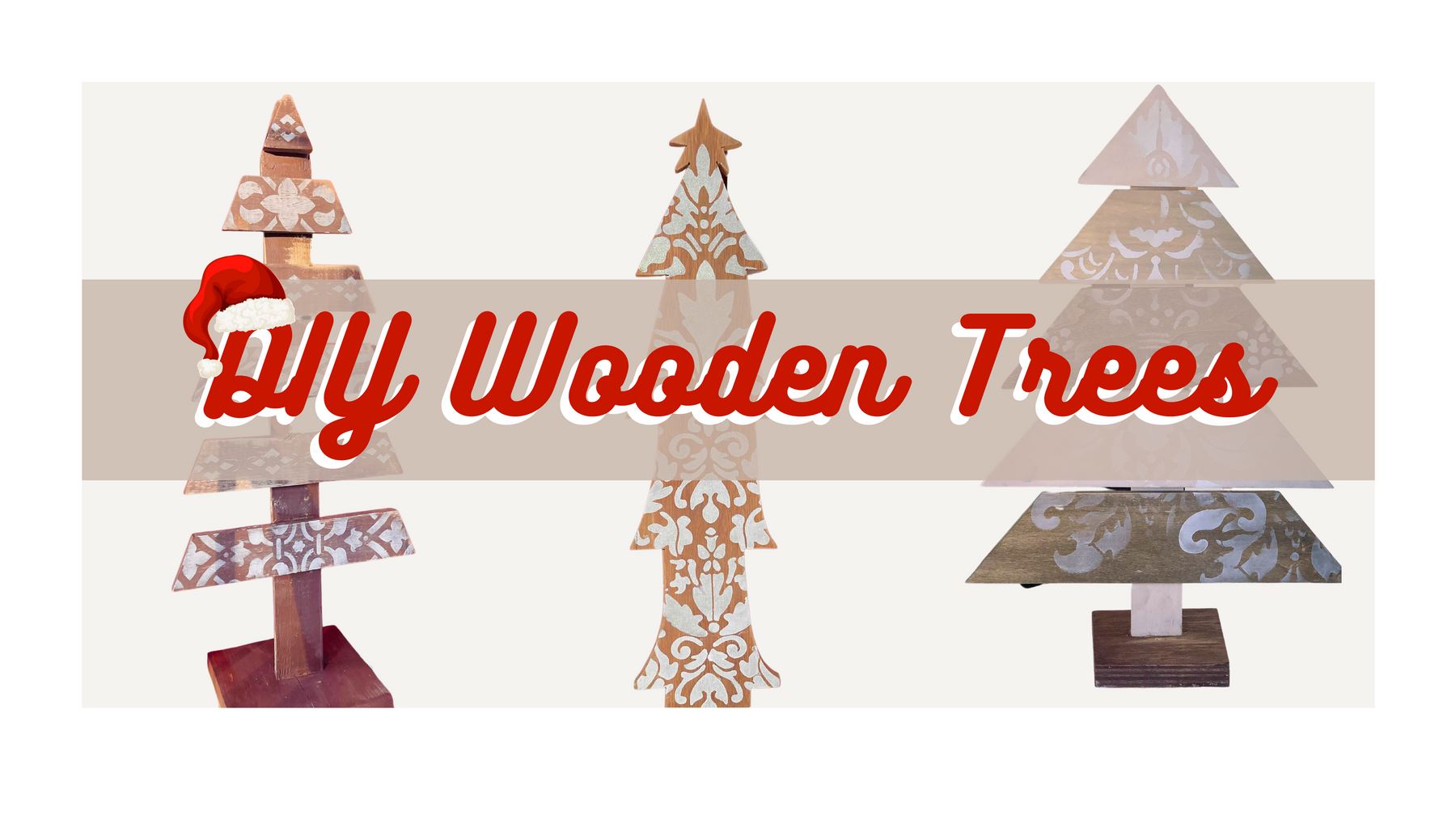 3 DIY Wooden Christmas Trees
As you guys might know by now, I LOVE getting hands on and making my own Christmas Decor for the holidays and one of my favorite projects is making wooden Christmas Trees! Today I am going to be sharing 3 of my favorite trees I have created, what stencils I used, and how you can do it to!
Upcycled Picket Fence Tree
This first tree has a little bit of a story which I love. I got this wood from an old picket fence in Manayunk, Pennsylvania from my brother's house. He didn't need the wood anymore and I knew it could be turned into something beautiful. I especially love using thrifted wood or scrap wood to create my wooden trees. 
Going into the process, I began by breaking the fence apart and removing any nails sticking out. After I had all my separate pieces of wood I cut them down on 22.5" angles on my miter saw. (If you don't have a miter saw, you can do this process with a hand saw and a miter box.) 
After I had all my pieces cut I used wood glue to secure them to the base. I also secured the whole tree to a square piece of wood so that it could stand up. 
After creating the shape of my tree, it was time to stencil! I used the Victorian Edge and Border Stencil to create random patterns on each piece of wood. I sanded it down at the end for a nice, rustic effect and I love how this tree came out!
Scrap Wood Christmas Tree
After doing a bunch of DIY projects, scrap wood definitely stars to accumulate and every once and awhile I put that scrap wood to use! For this project I followed the same process as the picket fence tree but just made my tree sections closer together rather than spaced out. I also went in with different colors of stains for each piece to create more interest. 
After staining and putting my tree together, I went in with the Vintage Damask Stencil to create an all over pattern on the entirety of the tree. I love that I basically followed to the same process as the previous project to put the tree together but just switched up the color and stencil and got a whole new look!
Skinny Glittery Christmas Tree
This is one of the most gorgeous Christmas trees, The glitter glistens so beautifully against the natural wood. I started off this project with just a thrifted plank of wood approx. 1' x 4' x 1". 
I sketched out my tree design on it and then began to cut out my shapes using a jigsaw. When cutting with a jig saw, make sure to use clamps to secure your piece of wood so it does not move around. 
After cutting and sanding my piece of wood, I went in with the Floral Medusa damask stencil to create my pattern. I started off with just stenciling in white paint, then went in with Elmer's glue on top of it so that I could sprinkle my white glitter on top. I worked in sections with my glue and glitter to assure the glue would be tacky enough for the glitter to stick to. After all those steps the tree was complete!
 I hope you all loved all these wooden Christmas tree ideas and hope it inspired you to try and make one of your own this season! Make sure to follow me on Instagram to see all of my most recent Christmas projects! 
Head over to Stencil Me Pretty for more Christmas Stencils
Wishing you all the best and Merry Christmas!
Christina Leone | Artist & Craft Blogger | Stencil Me Pretty
Happy Stenciling!