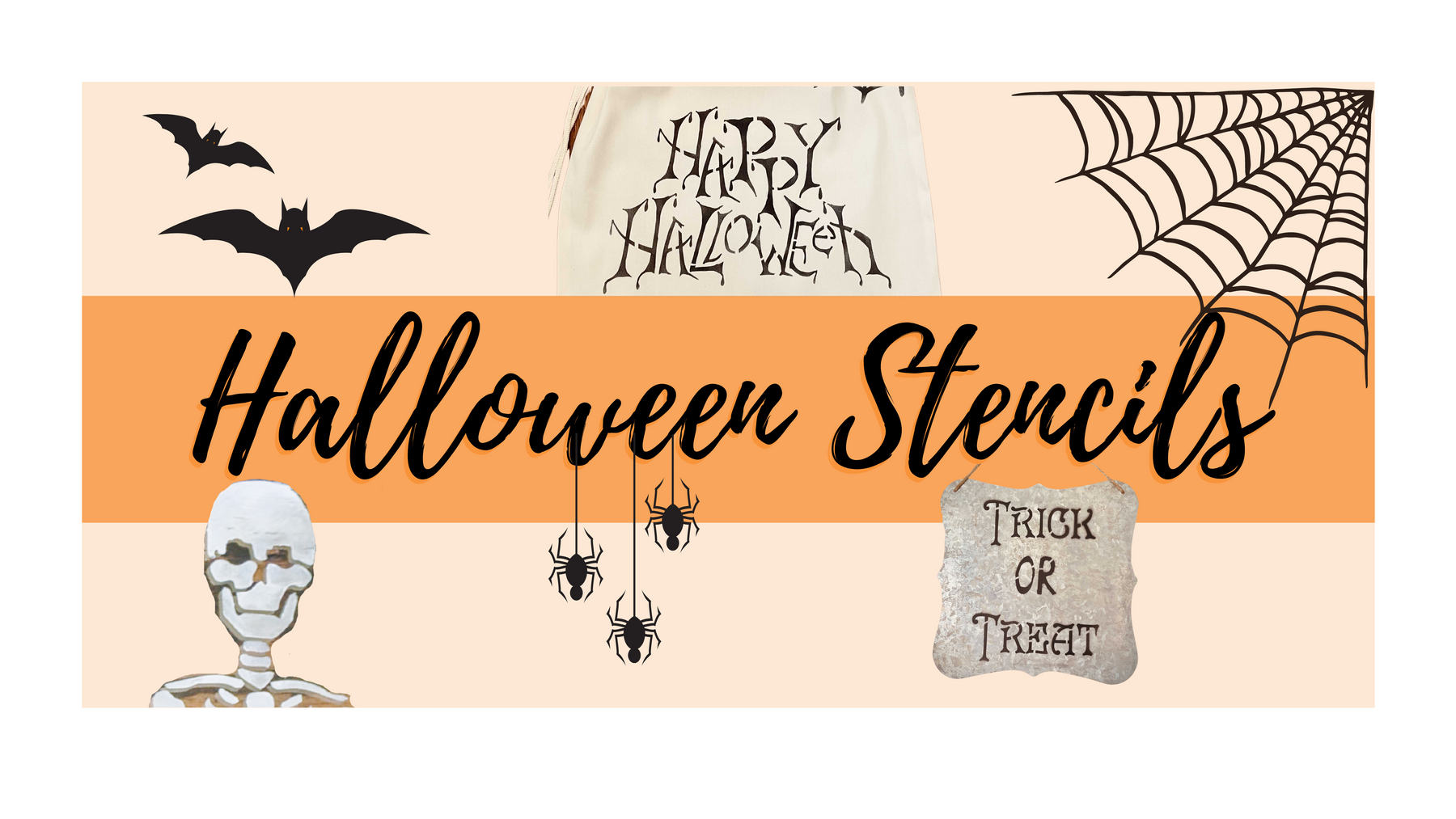 Introducing Our Spooky Season Stencils
Boo! Today I am going to be sharing all of my favorite ways to create DIY Halloween Décor, Painted Pumpkins, DIY Costumes & more using stencils!
Stencil Your Pumpkins!
Painting pumpkins is always a good time but stenciling a pumpkin is so much easier! I used the Boo Stencil with Flying Bats. I just simply taped my stencil to my pumpkin and used a white spray paint for my design. This project has a little dripping from the spray paint but it kind of turned into a happy accident; I think it gives a spookier effect!
Create Spooky Stenciled Signs
This adorable sign was created using the Vintage Trick or Treat Stencil Sign. I purchased the blank metal sign from Hobby Lobby and they had other metal options too such as big metal bowl or pitchers! For this project I taped my stencil down to my sign and went in with a black spray paint for my design. You don't have to use spray paint, you can also just use normal acrylic paint and a stencil brush or roller. 
DIY Halloween Costumes!
 I used the Half Skull Stencil to create this DIY Mask. This would make for such a fun and easy costume! Just wear all black and have your mask and you've got yourself the spookiest costume around. 
DIY Trick or Treat Bags for The Kiddos
You better have your candy bags ready for trick or treating! I made these two drawstring candy bags for my nephews and they just loved them. We have tons of spooky stencils on our website that could make these as scary as can be or more festive Halloween with some pumpkin stencils. I used a combination of the Happy Halloween Frankenstein Stencil, the It's October Witches Stencil, and the Farm Fresh Autumn Harvest Stencil. There are so many of our Fall Stencils that have pumpkin cutouts on them and I use the pumpkin section to create so many fall décor pieces. 
Spooky Welcome Signs
A vertical Welcome sign is always my favorite way to decorate inside or out front of the house! The Halloween Skeleton Welcome Stencil Sign added the perfect spooky touch to this old piece of wood I had in my garage. I love using old wood or scrap wood for projects like this; all you need is stain or paint to bring it back to life and you have a brand new adorable Halloween decoration for a fraction of the price!. 
More Halloween Stencils...
For more Stencil Halloween fun you can head over to our Instagram for our most recent DIY projects.
You can find stencil videos on our YouTube Channel where I share all of my stencil projects from fall stencils, wall stencils, holiday stencils & more.
I hope all of these spooky projects inspired you to DIY some of your own Halloween festivities this year. I wish everyone a safe and happy Stenciled Halloween!
Christina Leone | Artist & Craft Blogger | Stencil Me Pretty
Happy Stenciling!