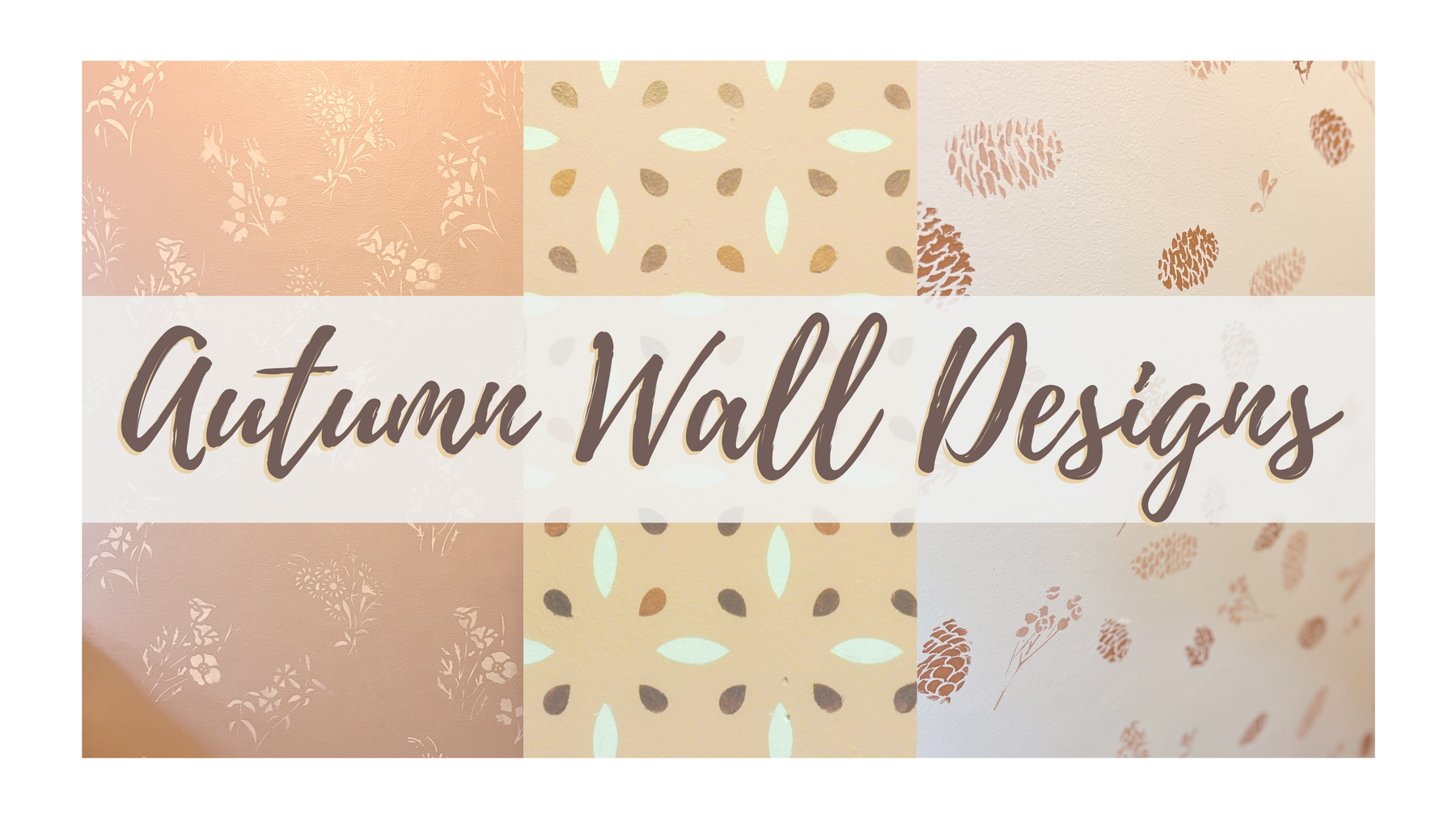 4 Autumn Stenciled Wall Designs
Welcome to yet another fall themed blog post where I am going to be sharing some of my favorite Autumn inspired Stenciled Wall designs that you can create too! We have so many different wall designs at Stencil Me Pretty that can be turned into fall inspired looks by just changing up the color palette. Here are some of my favorites...
Pine Cone Wall
I created this look using the Evergreen Pine Cone Stencil. I started with a cool tone grey base color and then went in with some warm stencil colors in different variations of browns. I love how to warm and cool tone colors compliment each other in this look and seemed so perfect for the fall weather. Here is another project I created last season using the Evergreen Pine Cone stencil!
I used the same pattern to decorate this pillow cushion I created from scratch! Its so interesting to see that a design I made on a pillow can come out just as beautiful on other surfaces.
Falling Leaf Wall
Next up, we have the Falling Leaf Pattern Stencil. I created this beautiful multicolored design with a mix of some muted pastels and dark tones for some contrast. I love the pattern of this stencil and how it brightens up a room and brings so much more interest to the space around it. 
Colorful Fall Wall
I had a little more fun with the color palette of this look and got a little brighter! Who says fall has to be all brown, tan, and orange?? I created this look using the King Gregory Castle Wall Stencil. 
Floral Fall Wall 
This look is one of my favorites because of the quietness it gives off. I created this look using the "Flowers Stencil - Columbine Magnolia Daisy Petunia." I used a chocolate brown color for my base and used just a shade lighter for my stenciling color. 
More Fall Things at Stencil Me Pretty
I am creating new fall crafts and wall designs every day from our Fall Stencil Collection so make sure to keep up with all my recent projects on my Instagram!
And if you have a little more down time, feel free to watch our latest Fall YouTube Video of all my recent projects from this season. 
I hope you enjoyed these four autumn inspired wall looks and make sure to check back next week for the next fall Fall blog post.
Christina Leone | Artist & Craft Blogger | Stencil Me Pretty
Happy Stenciling!