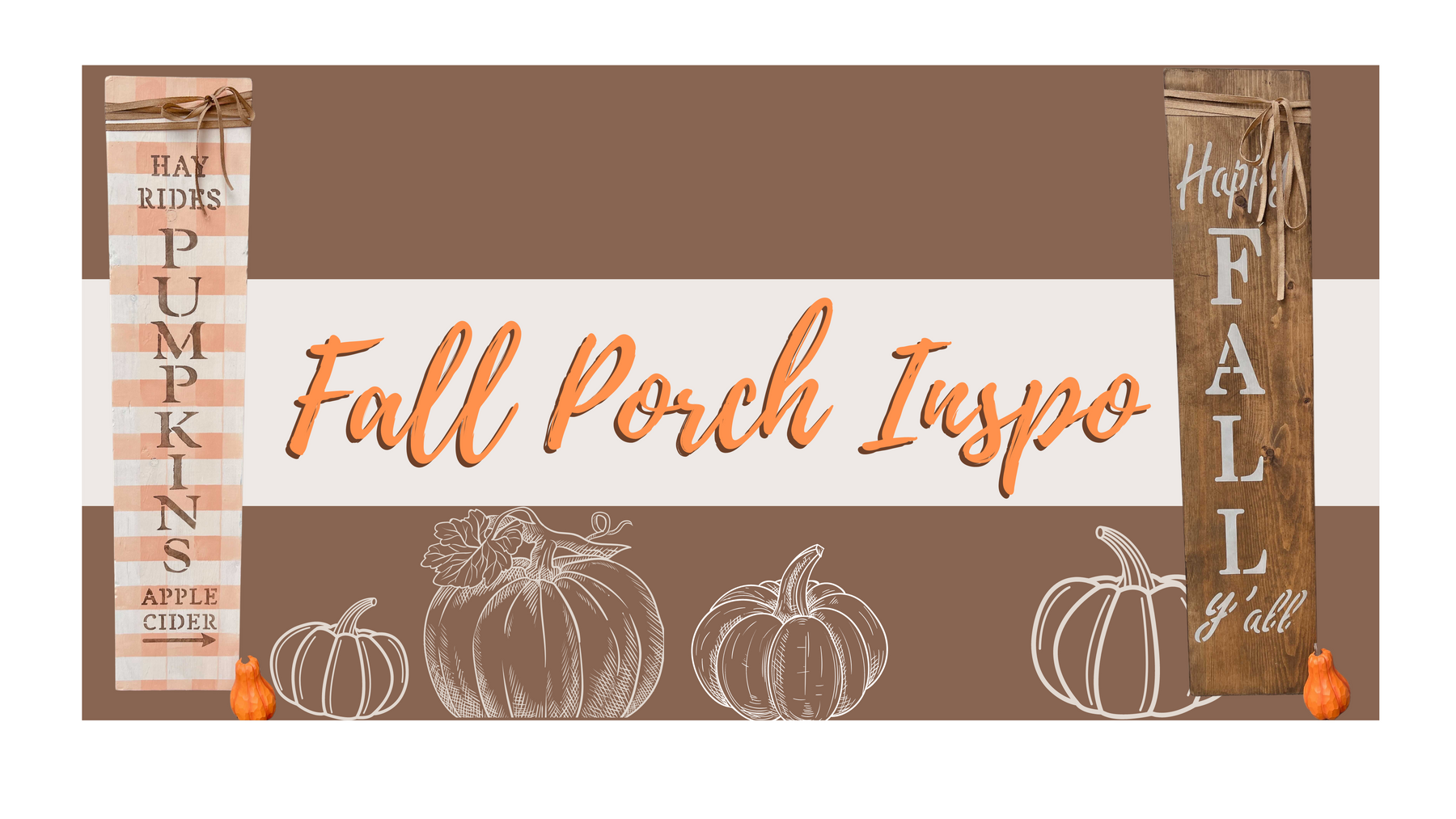 How to Create the Perfect Fall Porch
One of my all time favorite things about fall is decorating with signage, pumpkins, hay and all that good stuff! Today I am going to be sharing some fall porch decorating inspiration and how to DIY to make it super unique to your style. 
Let's Decorate!
Something that I think always works perfect for a good fall porch are those big vertical signs and we have different stencil options at Stencil Me Pretty for you to make one yourself!
The Happy Fall Y'all DIY Stencil is just the perfect punny quote for a playful touch to your decorating. I just picked up a board from Lowes, cut it down to size, stained with Antiquing Glaze and then it was time to stencil! You can make these vertical signs as details or simple as you like. I actually turned this same board into a reversible sign and did one with a little more detail on the other side. 
I used the Hay Rides Apple Cider and Pumpkins DIY Stencil to create the other side. I was going for a more simple & rustic look on the first side and decided to go for something more farmhouse & patterned on the other side! Creating reversible signs are great because you can change it through the season and it also saves on space when storing your decorations at the end of the season. 
And if you want more of a simple quote we have the Fall Welcome Sign which is one of my favorites that I have used so much. I love interchanging the pumpkin part of the stencil every season for something more fitting for that season so this stencil can really create a vertical sign for every holiday! And you better believe I made this one a reversible sign as well.
All I have to do is turn my fall welcome sign around and I'm ready for Spooky Season! The Halloween Skeleton Welcome Stencil creates that perfect Halloween vibe with just a quick project. I love creating my own signs for Halloween because you can distress them as much as you want making for that spooky haunted feeling. 
See the Stenciling Process 
 More decorating ideas...
Something I like to incorporate into my fall porch decorating are pumpkins! I love to include a variety of sizes and colors but if you don't want to buy all real pumpkins you could also DIY some! I have seen beautiful pumpkins made out of old palette wood or plywood and it gives a beautiful rustic feel. Keep your eye our on our Instagram for when I tackle this project this fall season. I have created some smaller pumpkin projects as indoor home décor but those projects have the same idea as the larger palette pumpkins!
Another one of my favorite things is layering my doormat! I love having a pattern thinner rug under my actual rug just to add some pattern and texture. I picked this reversible rug up from target last year and I love it! 
For More Fall Stencils head over to Stencil Me Pretty to check out the whole collection!