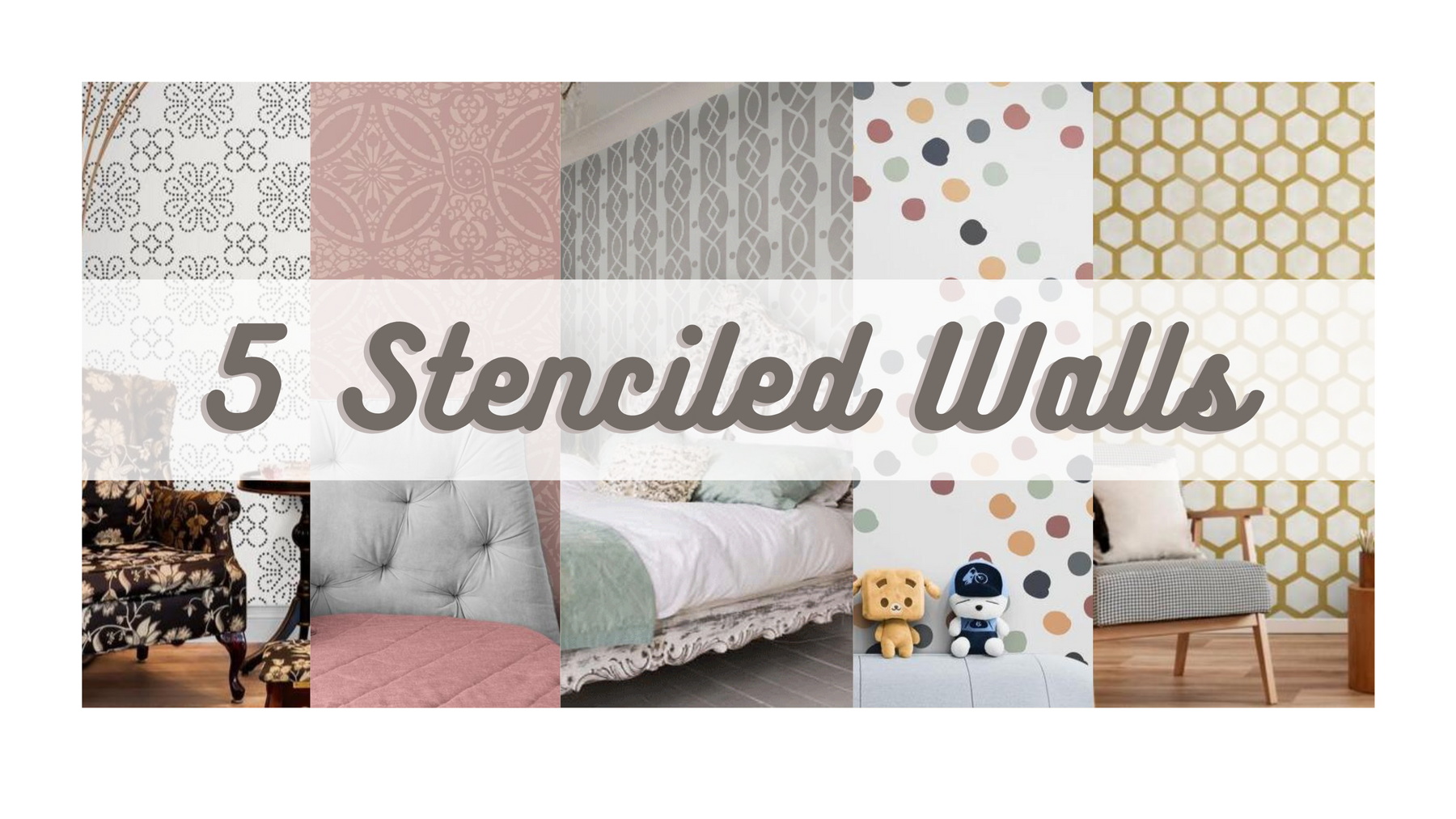 5 Quick & Easy Wall Stencils!
Being at home so much this passed year can really make you start thinking about the design of your home more than usual and sometimes you just cant put your finger on what exactly you want to add or change. Today I am going to fill that void of confusion with some stencil inspiration! I am going to be sharing 5 different stenciled wall looks that could be applied to any space in your home in just two easy steps: Paint & Stencil.
This fun and airy design would be so perfect for a kids room or a play room! You can go a little crazy with the color palette like in this look or you could even simplify it to one color if that's what you want! With stencils, everything is pliable to fit your exact style! 
This elegant design just creates such a royal feeling in any space. This tonal grey look works perfectly for this design and can be imagined looking phenomenal in a bedroom as an overall design or even just an accent wall!
This pattern is truly one of my favorites. I absolutely love how intricate this pattern is and how easy it is to create. This detailed beauty of a pattern can be created with just one stencil and some paint! I used a muted pink look to create this bedroom accent wall and it just suites the style of the room perfectly. 
Sometimes a little black and white moment is all you need in your space. I love the black and white wall and how it plays off of the velour warm toned furniture. Playing around with different patterns and textures in your space can really create an amazing look.
For this look I started off with a gold toned base and then stenciled over it in white! This look is super simple and the Honeycomb Wall Stencil makes it so easy to achieve. This stencil could be used to create a modern geometric design or even a more playful bee themed nursery!
To check out more of the wall stencils, head over to Stencil Me Pretty and browse through the Wall Patterns Section!
I hope you enjoyed these five looks and hope it inspires some of your to try out a stenciled wall for yourself! I think it is a fool proof way to make some changes in your space and is so easy to customize and change. There is no hassle of putting up wallpaper or decals, just simply paint and stencil!
Christina Leone | Artist & Craft Blogger | Stencil Me Pretty
Happy Stenciling!