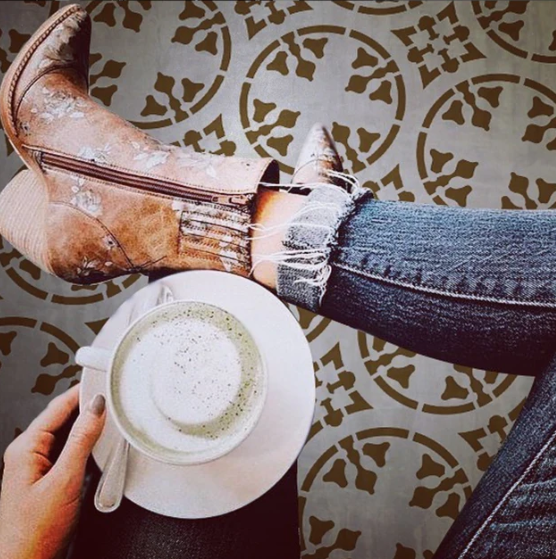 How to Stencil Concrete Floors: A Step-by-Step Guide for a Unique and Stylish Look
Are you looking for a cost-effective way to transform your plain concrete floors? Concrete stenciling is a fun and easy DIY solution that can give your floors that unique and stylish look. In this guide, we'll show you just how to stencil your concrete floors step by step.
1- Before you get started, make sure your concrete floors are clean and free of any debris. If your floors have any cracks or uneven areas, you'll need to repair them first.

2- Next, choose a stencil design that you like. You can find a wide range of stencil designs in our tile stencil collection. Make sure the stencil you choose is suitable for use on concrete. Stencil Me Pretty Ultra Thick stencils are a great choice for a project like this.

3- Once you have your stencil, you'll need to position it correctly. Use painter's tape to secure the stencil to the floor, making sure it's centered and level. Then, use a foam roller to apply a thin coat of concrete overlay over the stencil. Be sure to work slowly and carefully to avoid any mistakes or bleed through.

4- After you've applied the concrete overlay, carefully remove the stencil and let the overlay dry completely. Once it's dry, you can use a fine-grit sandpaper to smooth out any rough spots.

5- Finally, seal your stenciled concrete floor with a concrete sealer to protect it from moisture and wear. You can find concrete sealers at your local home improvement store.
Stenciling your concrete floors is a fun and easy DIY project that can transform your floors from plain to stylish. With the right tools and a little bit of patience, you can create a beautiful and unique look that you can show off for years to come.