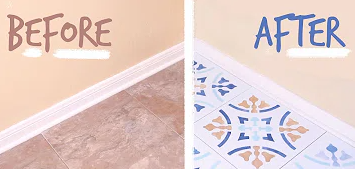 5 Steps to Style Your Floors Using Sassy Tile Stencils
By Divya Gupta
Dramatic ceiling and flooring are on a trend this year! Everybody is raving about statement floors with Moroccan mosaic or Mexican Talavera tiles. But ripping off your existing floor for an upgrade can be really painful and heavy on the pocket. Don't worry, we have a hack for you, that can make your tiles look expensive and stylish. And the process is really fun and fulfilling! 
Get ready with your paintbrush and check out how you can give your tile floor a posh and patterned makeover. 
1. Select a Pretty Pattern
At Stencil Me Pretty, you can find a myriad of stencil options for this DIY patterned tile look. Scroll through Pinterest and find floor tile options that you absolutely love! If your favorite pattern is not available on our website, you can drop us a message and we can customize a stencil for you!
Here, we have used a stunning Verona Italian Tile stencil. Verona is a city in Italy, where Shakespeare's play, Romeo and Juliet took place. Italian designs have always been an inspiration for centuries!
This pattern is a reimagination of original Italian tiles that had a central motif with joyful patterns in saturated hues. And today, we will try to achieve that same look but with a modern twist!
2. Prepare your Surface
It is very important to prepare your base to get a flawless finish. Use mineral spirit and rag to clean the grout. If the tiles have accumulated dust and grit, make sure to get rid of it and clean the floor thoroughly.
Once the surface is spick and span, you can give the tiles a quick whitewash using a foam roller and chalk paint. 
3. Splash the Paints on the Floor
After your surface is prepared, secure the stencil to the tile. You can use a spray adhesive or masking tape to make sure the stencil doesn't move. 
Take inspiration from the existing color palette in your room and select paint shades that make the space look cohesive. While choosing the colors, make sure that they are complementary to each other so the contrast is maintained. But you can explore and experiment to see what works best for the area. 
4. Fill in the Details 
While painting through the stencil, always try to avoid spills by fixing the stencil firmly. It is natural to have a few bleeds here and there but don't worry we have a quick tip for that. Once you peel off the stencil, use a small paintbrush with the base color to correct these small spills. You might have to give a couple of coats but this will ensure that the pattern looks spotless.
While creating the patterns, you can get super creative and have fun with it! Some stencils have decorative corners that make a gorgeous pattern with adjacent tiles. In such cases, be a little careful while securing the stencil and match the edges meticulously to avoid any glitches. 
Use tape on the corners of the wall and nearby furniture to avoid any paint marks and you are good to go! 
5. Seal it! 
This is probably the most crucial step and you cannot afford to miss it! Use a water-based polyurethane to seal the paints perfectly. Ideally, you must apply 2-3 coats and leave at least a couple of hours between them to let it dry completely.
Voila! Your new fabulous tiles are ready to flaunt. For more fun stenciling projects, follow us on YouTube and Instagram @stencilmepretty)