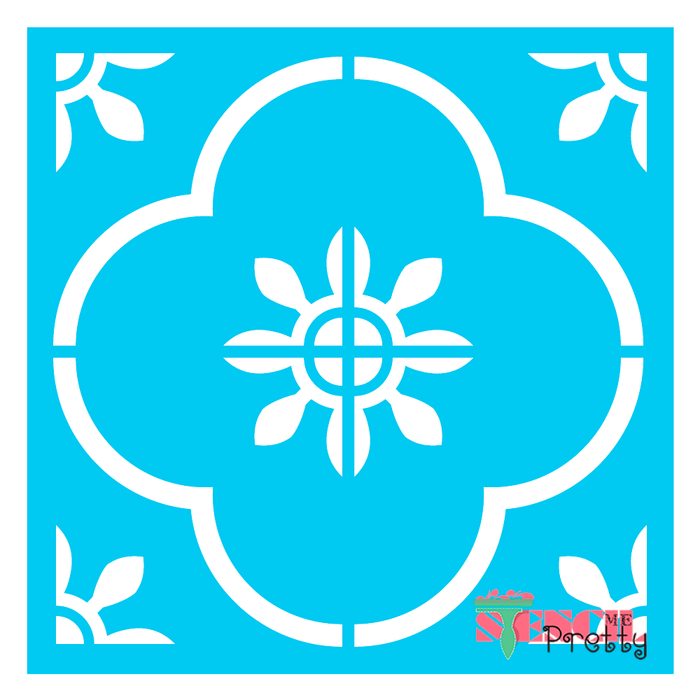 This design has a strong Californian vibe. It is a Spanish design, but one that has been echoed in California quite a bit. We named the design after Coronado Island in the San Diego area, a place filled with beautiful homes and local tile motifs. One of our favorite features of this design is the berry-like circles above the flowers. They have that extra bit of elegance that looks amazing when it the design is repeated across your surface.
Achieve the perfect sun-inspired design using our sun or flower pattern large wall stencils. These painting stencils are perfect for painting your bathroom tiles; Create an eye catching living room with the use of these large stencils for painting wall; The large stencil pattern or design will also look great on floor tiles. Our bathroom tile stencils will make a big difference!
You can use this stencil for wall painting, tiles and floors, fabric, wood, and other surfaces. It comes in three different materials: the Standard Brilliant Blue Stencil Plastic, The Ultra Flexible Food Grade Clear Color, and The Ultra Durable Museum or Exhibit Grade White Color Plastic. All materials are reusable though the thicker material has a much longer life span. This design can be custom-sized, for an additional fee. Simply send us a message to have the size tailored to your project needs!
🔆 Crafting Versatility: These stencils work well with Furniture, Walls, Fabrics, wood and more. Your item will come with instructions for different applications and paint uses. All our designs are created by a local artist, and each stencil is tailor-made in our Denver, Colorado boutique. 100% MADE IN THE U.S.A.
🔆 Multiple Size Options: In order to fit your project, our stencils are offered in a large variety of sizes. The sizes you see for all Stencil Me Pretty products measure the area of the pattern or design ONLY. This does not include the blank space on the margins.
🔆 Arts and Crafts Support: Purchasing a Stencil Me Pretty product will enable you to be part of a crafting coterie, where folks share their projects and ideas. Our team also offers great support for answering questions about your arts and crafts project. We absolutely love playing a role in customer projects and seeing pictures of what you create!
🔆 Easy to Use: This large tile stencil can be used by children and adults alike. You can typically use any kind of paint as well. The Perfect Activity: You can bask in the silence of doing art on your own or make something with friends and family. This is the ideal activity for taking it slow and creating art you can call your own.
🔆 100% SATISFACTION GUARANTEE FROM STENCIL ME PRETTY: We stand behind our products and have a 100% "No Questions Asked" guarantee. If for any reason you are not happy with your purchase, return it for a full refund! Buy from a trusted American brand, STENCIL ME PRETTY.