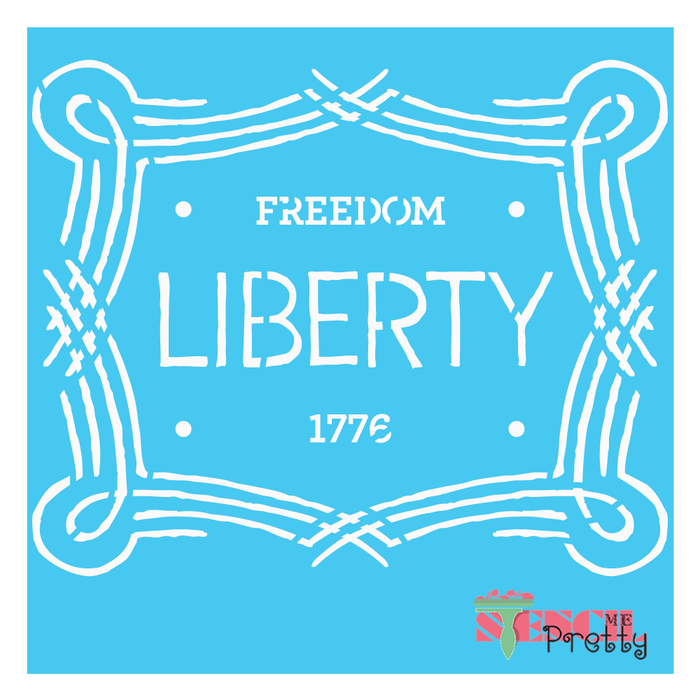 1776 LIberty & Freedom Patriotic American Revolution
Introducing our 1776 Americana Liberty And Freedom Stencil - Unleash Your Creativity for Independence Day Crafts!
Celebrate your love for the USA with our premium Americana Freedom Stencils, perfect for American flag projects and adding a touch of classic Americana charm to your home decor. With these stencils, you can unleash your creativity and create stunning artworks for various surfaces.
Crafting Versatility: Our stencils work wonders on furniture, walls, fabrics, wood, and more. Whether you're working on a DIY project or a professional craft, these stencils offer endless possibilities. Each purchase includes instructions for different applications and paint use, ensuring a seamless experience.
Multiple Size Options: We understand that every project is unique, which is why our stencils are available in a wide variety of sizes. Rest assured, you'll find the perfect fit for your creative vision. Please note that the sizes listed reflect the pattern area only, excluding the blank margins.
Premium Materials: Choose from three top-quality materials to suit your preferences - Standard Brilliant Blue Stencil Plastic, Ultra Flexible Food Grade Clear Color, and Ultra Durable Museum or Exhibit Grade White Color Plastic. All materials are reusable, with the thicker option boasting an extended lifespan.
Customizable Options: Need a specific size for your project? No worries! We offer custom-sizing for a nominal fee. Simply drop us a message, and our team will be happy to tailor the stencil to your needs.
Easy to Use: Our American flag stencil is user-friendly, making it suitable for both children and adults. Pair it with any paint of your choice, and let your creativity flow. This versatile stencil is perfect for solo artistic endeavors or as a fun group activity with friends and family.
Crafting Coterie: As a valued customer, you become a part of our crafting coterie, a community of like-minded creators who share ideas and projects. We take pride in providing excellent support and assistance, ensuring you have a fulfilling crafting experience.
100% Satisfaction Guarantee: At Stencil Me Pretty, we stand behind our products with unwavering confidence. We offer a 100% "No Questions Asked" guarantee. If, for any reason, you're not thrilled with your purchase, simply return it for a full refund. Trust in an American brand that genuinely cares about your satisfaction.
Join the creativity revolution with Stencil Me Pretty - where artistic expression knows no bounds. Create unforgettable projects, share your masterpieces, and embark on a crafting journey that celebrates the essence of freedom and artistic inspiration. Let your imagination take flight with our Americana Freedom Stencils today!